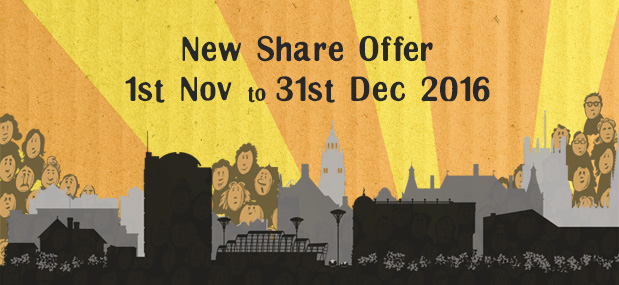 Investing in Sheffield Renewables
Sheffield Renewables are currently developing Community-Owned Solar PV schemes in and around Sheffield. We are hoping to launch a second Share Offer later in the year to fund the installation of more community owned solar projects.
Further information on our Community Solar PV projects can be found by clicking here. We will update this page again when we launch a future Share Offer. You can keep up to date by subscribing to our newsletter.
The details below show our previous Share Offer, which was for the Jordan Dam Hydro Scheme and raised over £210,000. This scheme is unfortunately on hold for the foreseeable future; further details on this can be found by clicking here. The board made the decision not to progress Jordan Dam after the Share Offer closed, our investors where consulted and agreed to a direction change for the organisation, to focus on solar projects.
Sheffield Renewables Community Share Offer 2012
Financing was required to develop a series of energy projects in and around Sheffield, starting with the Jordan Dam Hydropower scheme on the River Don at Blackburn Meadows. If this scheme had gone ahead it would have been the city's first community owned renewable energy project, this honour has gone to our first Solar Project at Paces Campus.
Offer summary
This summary shows what our first Share Offer offered.
Invest anything from £250 to £20,000
Option to pay in installments for those on a low income
We aim to pay a modest rate of interest after 2 years of operation
We aim to allow you to "cash in" your shares after 3 years of operation
HMRC have assured us that, subject to personal circumstances, investments will be eligible for EIS tax relief (More details can be found on the HMRC website)
Much of the funding for our schemes comes from shares. Our shares are offered as a social investment for public spirited and environmentally aware individuals and organisations. The aim is to provide an attractive ethical investment opportunity.
Investing in Sheffield Renewables is about more than financial returns, it is also about putting something back into our city and contributing to a more sustainable future."
Chris Broome, Sheffield Renewables shareholder
Investors  receive a modest financial return, complemented by wider social and environmental benefits. The scheme at Jordan Dam would have produce:
● Local green electricity (equivalent to 80 homes)
● CO2 savings of 170 tons per year
● Profits will be used to develop further energy projects
We raised approximately £50,000 from two previous small share offers. The first community share offer, launched on 15th September 2012, with the aim of raising another £200,000 or more towards the Jordan Dam Hydro scheme.
How did it work?
● Shareholders become members of Sheffield Renewables with a say in how we are run. (Decisions at general meetings are made on the basis of one member one vote)
● You can invest anything from £250 and £20,000, with an option to pay in monthly £25 instalments for those on a low income
● We plan to pay a modest rate of interest, and allow you to 'cash in' your shares
● The option to buy shares runs from 15th September 2012 to 31st December 2012
What are the risks?
As with all investments, there is a degree of risk. Interest payments and withdrawals are dependent on scheme performance. Our Share Offer document set out all risks clearly, you can down load this here, Sheffield Renewables Share Offer Document.