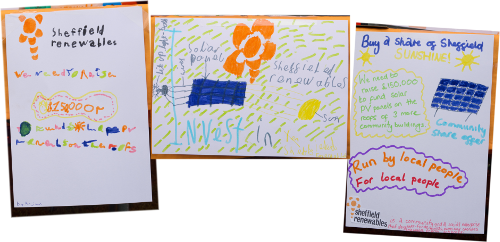 Our share offer launch was only the first of several opportunities to speak to us about our new Share Offer in November. Today we are at the Peace and Craft Fair in Sheffield Town Hall. We have long exhibited at community events such as Peace in the Park and the Peace and Craft Fair (http://peaceandcraftfair.btck.co.uk/) is very much in the same vein – an annual celebration of community and creativity. Our community shares are an investment not only in protecting our shared climate but also a direct investment in community projects. The Fair is from 11am to 4.30pm.
Following this, on the evening of the 9th, we will have a stall at 'The future of buildings – a Retrofit Showcase' (http://carbonneutralshef.weebly.com/9-nov-2016—the-future-of-buildings.html) hosted by the Carbon Neutral University Network at the University of Sheffield and Zero Carbon Yorkshire. This is an evening of presentations and discussions centering around how to reduce the carbon emissions of the existing built environment. Other exhibitors include Sheffield Climate Alliance, Sheffield Solar and the School of Architecture at Sheffield University. The event will be at The Diamond, Lecture Theatres 1, 3 & 4, University of Sheffield, 32 Leavygreave Rd, S3 7RD, from 5pm to 9pm.
Lastly, we will be at SYEC (the South Yorkshire Energy Centre) between 11am and 3pm on the 12th as part of Sheffield Green Homes open weekend. Open Homes weekends give people the opportunity to learn about the energy saving – and energy generating – measures people are making to their homes. It is an ideal chance to see how solar-generated electricity complements other efforts to reduce our carbon emissions. SYEC is based next to Heeley City Farm on Alexandra Road – see https://www.heeleyfarm.org.uk/page/energy-centre for further details. The Open Homes weekend will see 15 open homes and events across the city between 11th and 13th November. See their website http://sheffield.greenopenhomes.net/green-homes-sheffield-225 for further details of individual dates and times.
Further details of other events to follow. Of course we are always happy to answer any questions online at other times that you have about our Share Offer.
Save