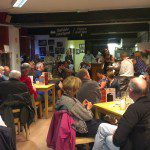 An interesting evening at Harland Cafe, in John St, on Friday evening, July 13th. Caroline Flint, shadow minister for environment, spoke and answered questions on jobs and growth in a low carbon economy.
She highlighted that the key to growing the economy is through low carbon technology and that a lot can be achieved by utilising community owned power.
"If we don't invest in green technology we will be hostage to oil and gas from overseas" warned Caroline.  She further stated, "We need to gain security and control over our energy sources and help British industry, who have world leading demonstrator technology in renewable energy production."
Currently only 10% of renewable power is community owned in the UK, whereas in Germany two thirds of all renewable power is community owned. The impact of ethical and community businesses may not be felt today, but in years to come the full benefits will become apparent, with countries such as Germany already reaping the benefits. Supporting community enterprise, such as Sheffield Renewables, is one cog in a bigger process working towards economic and social change.
Caroline nominated Sheffield Renewables as the organisation to benefit from a collection held during the evening. We received just over £175 as a result. We will put this towards the cost of some more leaflets for our share offer.
Many thanks to Caroline, to Steve and Sara at the cafe, and to Anna Chester in Paul Blomfield's office for organising the event.