Sheffield Renewables aren't the only ones pioneering renewable energy generation across the city. There are a number of existing renewable schemes already making a valuable contribution to reducing the cities energy consumption.
A new online project from Sheffield Renewables, called Powerstation Sheffield, has recently been launched aiming to gather data on renewable energy as it's installed across the city. The intention of the project is to build a clear picture of how schemes in the city are helping contribute to carbon dioxide reduction.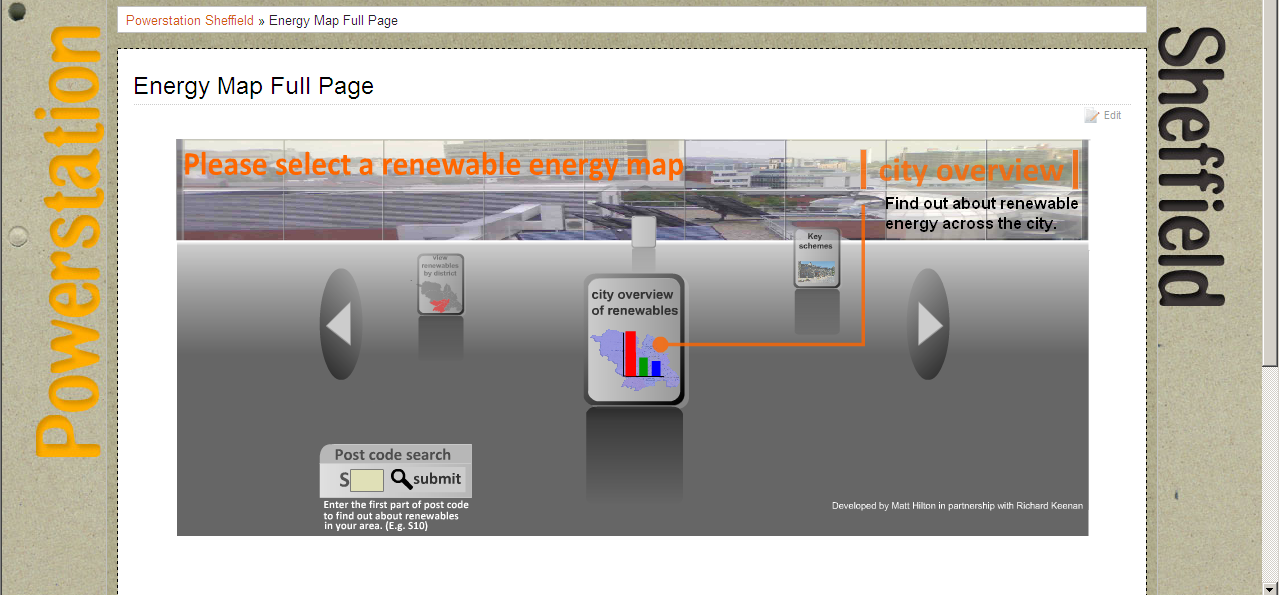 Whilst climate change is a global issue, Powerstation Sheffield aims to illustrate local action taken to reduce CO2 emissions and generate cleaner, renewable forms of energy. Highlighting this at a local level helps people realise this shift can happen; encouraging and empowering people both to support such schemes and be part of the movement towards renewable energy themselves.
Central to the project is the development of renewable energy maps which illustrate renewable energy generation in different postcodes, wards and districts across Sheffield. This makes the renewable energy generation figures relevant to local communities. In this way people will be able to see that every scheme makes a valuable contribution to reducing energy consumption in our neighbourhoods, no matter how small.
Despite only recently going live Powerstation Sheffield contains a lot of interesting information on existing renewable schemes across the city. Some of these schemes are obvious to observant residents, for example you can't help but notice the towering wind turbines at the Advanced Manufacturing Research Centre off Parkway, which have an annual output of 5000 kWh.  Other less obvious schemes hidden away on roofs, or behind industrial units and in the depths of buildings are brought to light by Powerstation Sheffield. For instance the Ewden Reservoir Water Treatment Plant is one of 5 water treatment works in Sheffield which provides drinking water to the city, but it also produces a whopping 688,445 kWh annually!
If you have a renewable energy scheme at your home or work, please let us know the details by filling in the form via the Powerstation Sheffield page. These details can then be added to an evolving renewable energy map of Sheffield.
In addition to interactive maps, a renewable energy trumps game has been developed, to raise awareness and generate interest in some key schemes in the city in a fun and engaging way.
The project was developed by Sheffield Renewables volunteer Matt Hilton and helped made possible thanks to funding received from the organisation Artists Planet Earth (APE).
To notify Sheffield Renewables of a local renewable energy scheme at your home or work please fill in the form via this link.