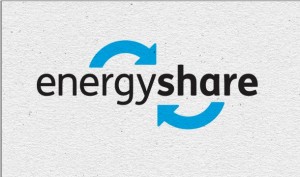 Below are brief daily updates of our progress in the energyshare national funding competition. If we are the most popular group in our category when voting closes, 5pm on Saturday 3rd December we will win £100,000 towards developing Jordan Dam Hydro. Everyone can register with energyshare and vote for us in a few minutes. You can check out the latest rankings for the groups here.
Wednesday 23rd November
Things are starting to pick up pace as we approach half way through the voting period. Almost 15,000 people have voted so far and we've maintained our share of 22%. Hexham have lost another 0.1% taking them to 26.3%.  Hexham are a partnership of organisations that have developed other projects in their area, possibly a reason for their wide support base. In contrast our Jordan Dam Hydro project is more advanced, thanks to our dedicated volunteers we already have planning permission and we've raised over £65,000 towards development costs.
Our neighbours at Millhouses Mill Buildings  are also holding steady, in third place in their category. As two groups can win at their level (unlike only one at ours) they just need 4% more to become a joint winner. Above them there has been little change, with North Devon Hospice and Shrewsbury Hydro at 26% and 20% respectively.
In Tutbury there are rumours that the energyshare word may be spreading behind the scene although publicly they remain at 11% of the votes, leaving them in 4th place. They've got a big challenge ahead to gain the 20% needed to catch up with leaders at the affectionately named Scout Hut. Once through to the final they appear to have decided to upgrade their name to 'Old Basing Baden Powell Centre for Scouts and Guides – Renewable Energy Centre', a bit of a mouthful so we'll hope they don't mind us sticking with Scout Hut.
With only 9 days left until voting closes, the winning schemes will rely on everyone involved 'doing their bit' to get more people voting for them. *fingers crossed* Yorkshire residents and our more distant friends will join in to lend a hand.
Tuesday 22nd November
The sense of optimism around our chances of winning the competition continues as Hexham lost a  bit more of their percentage, taking them to 26.4%. We are maintaining our 22% so more votes will definitely be needed. Our position of 2nd place is consistent as our closest competitors, The Hub Lyme Regis, have lost a percent, taking them to 16%. Unfortunately one one scheme can get the £100,000 so we need lots and lots of votes.
Elsewhere in Sheffield Millhouses Mill Buildings and their competitors Shrewsbury Hydro and North Devon Hospice seem to have stagnated at 17%, 20& and 26% respectively. Two schemes in this category can win so if all our voters voted for Millhouses as well they should be in with a chance of the cash we need. It is a lot easier to vote the second time round!
Strange to think that in less than a fortnight this will all be over.  Please keep encouraging everyone you know to vote and spread the word. Winning would be a great boost for out city.
Monday 21st November
Thanks to all your voting and spreading the word we are starting to make an impact. We increased our share of the votes by 1% today, taking us to 22%. Our biggest rivals, Hexham, lost 0.8% so we only need 4% to beat them.
Our friends at Millhouses Mill Buildings, in Sheffield's Millhouses park, are holding there own at 17% but need more support to be one of the top two winners in their category (unlike our category where only one group can win). Their closest rivals have 20%.
There's been little change for our friends at Tutbury. Their medium category seems to have been dominated by competition between Old Basing Baden Powell 'Scout Hut' and Portobello & Leith Community Wind project. The popularity of a wind project may surprise some people.
With 11 days to go, there's still plenty of time for things to change so every vote can help make a difference.
Sunday 20th November
We've had lots of new supporters, 1469 altogether so far. Not all of these people have voted. If they do it could make a big difference. Hexham Hydro have started to loose a little ground, now at 27.2%. If we keep growing and growing our voters we should be able to overtake them in the next 12 days. The Hub Lyme Regis are maintaining their 17%. Below them, in fourth position is Harbury Energy Initiative, then Greater Manchester Carbon Co-op. Last but not least is Wadebridge Renewable Energy Network.
In the small category there has been little change. Millhouses Mill Buildings have maintained their 17%, whilst their closest competition, joint leaders Shrewsbury Hydro, have still got 20%. Two groups can win this category and so far, with 27% of the votes, North Devon Hospice seem guaranteed a place.
Things aren't looking so good for our friends at Tutbury, who are still in 4th place with 12%. Old Basing Baden Centre for Scouts are battling hard against Portobello and Leith Community Wind Project for the top spot. With 12 days left to vote, hopefully there will be a stroke of good luck for Tutbury.
Voting has been open for just over 5 days so theres still time for everything to change before voting closes at 5pm on Satruday 3rd December.
Saturday 19th November
Our share of the votes has decreased to 21% despite more people voting today. Hexham River Hydro and The Hub Lyme Regis appear to have maintained the same proportion of votes at 27.4% and 17% respectively. We need a big spurt of new voters to gain the extra 6% needed to overtake Hexham River Hydro. Hopefully everyone will encouarge lots of new people to vote for us!
In the small category, our friends at Millhouses Mill Buildings have maintained there share at 17%. Unfortunately Shrewsbury Hydro has gained a higher proportion of voters today so Millhouses now need 4% more of hte votes. If they can win they will use the cash to instal renewable energy technologies on the buildings they are refurbishing in Sheffield's Millhouses Park.
It's also not looking so good in the medium category. Our friends at Tutbury are down to 12% of the vote. Hopefully they will be able to get alot more voters over the next week.
There's just under two weeks left until voting closes so plenty of time to make a big difference to the ratings. Please spare a few minutes to spread the word. More votes for Sheffield Renewables could make all of the difference and ensure Sheffield gains it's first community owned renewable energy scheme.
Friday 18th November
We've gained 1% of the vote today thanks to people helping to spread the word. We now have 22% whilst Hexham River Hydro has  fallen a bit to 27.4%.
In the small category, our friends at Millhouses Mill Buildings have maintained there share at 17%. Unfortunately Shrewsbury Hydro has gained 1% so they need more support to help them catch up and get the cash they need for renewable energy technologies on the buildings they are refurbishing in Sheffield's Millhouses Park.
In the medium category Portobello and Leith Community Wind Project overtook Old Basingdon Baden Powel Scout Hut.. showing that if we all try to get people to vote it could be a very different picture by the end the month. Our friends at Tutbury are in 4th place, 18% behind the top group. Hopefully things will start to impvore for them soon.
So much could change over the next fortnight, your votes and anything you do to encourage other people to vote could make all the difference. We'd have all the grant funding we need to build Sheffield's first community owned renewable energy scheme if we won the £100,000 from energyshare.
Wednesday 17th November
Over eight and a half thousand people have voted so far. Sheffield Renewables has 21% of this, putting us in second place behind Hexam River Hydro who have 28%. In third place is The Hub Lyme Regis with 17%. Earlier today EnergyShare told us that over 500 of our supporters haven't voted yet. Supporting is not the same as voting and 500 more votes might put us into the lead.
In the small category Millhouses Mill buildings, based in Sheffield's Millhouses Park, are the third most poular group with 17%.Only just ahead of them, in second place, is Shrewsbury Hydro with 18%. Two groups can win this category so a few more percent of the votes could give them a chance at the cash.
Our friends in Tutbury are not doing so well. They are in fourth place with only 12%.
Sheffield Renewables needs to start catching up with Hexham Hydro soon to ensure we have a chance of winning. Publicity materials have been launched today and we need everyone to vote and spread the word if the £100,000 is to enable Sheffield's first community owned renewable energy project.
Tuesday 15th November
What an busy day for the office team! Energyshare were unable to make the vote live until lunchtime, giving us only a few hours to get used to the new website sturcture, voting process, squeeze in a quick interview with Radio Sheffeld and get everything ready for our 'energyshare special' volunteer discussion night. Unfortunately finishing off all our publicity materials was beyond our capacity, but we are determined to get back on track tomorrow!
Despite the set backs, we are in second place with 20% of the votes in our category. Hexam River Hydro is currently beating us with 6.9% more votes. 2,792 people have voted so far so anything you can do to encourage everyone you know vote, once publicity materials are available, will be a great help. More info tomorrow….
Monday 14th November
Finishing touches are being made to our publicity materials and plans, ready for voting opening tomorrow. We know that we are competing against 5 other groups in our category, though they have not yet been officially named. So far we've signed up about 750 supporters making us the fourth most popular group. We will need each of our energyshare supporters to take the extra step and vote. If through to the vote, our biggest competition appears to be Bradford ecoPower with 1255 supporters. We will need all the help we can get over the next few weeks.