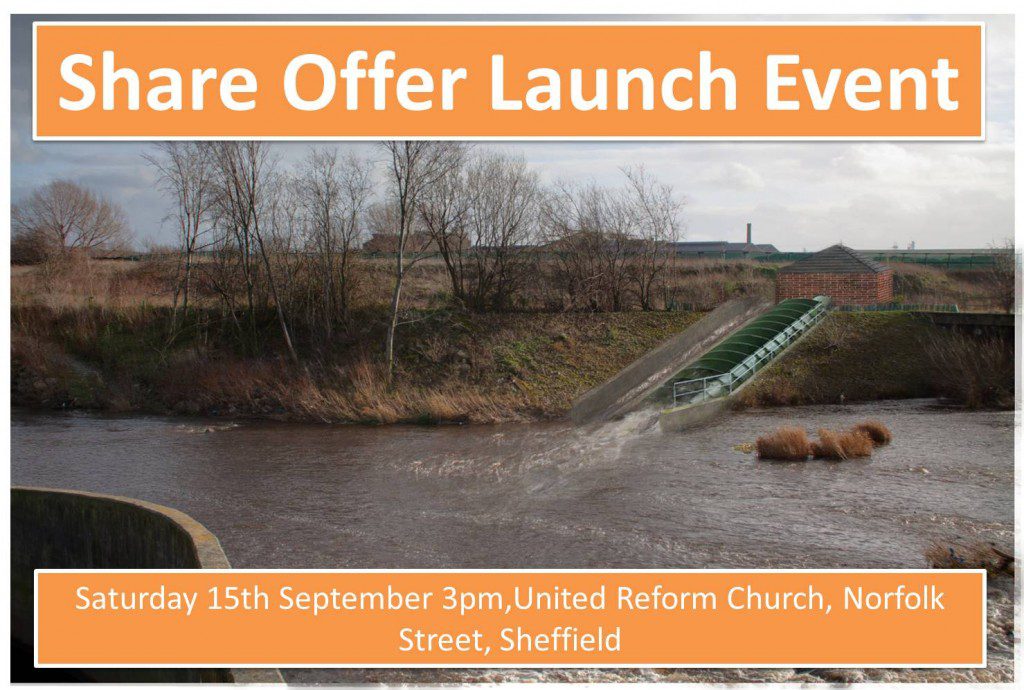 Sheffield Renewables Community Share Offer will be launched on Saturday 15th September 3pm at the United Reform Church on Norfolk Street, Sheffield city centre.
An Invitation to Invest from Dr Richard Collins, Chair.
"The challenges of climate change and creating a sustainable society are enormous, yet bring with them a great opportunity to work together. Renewable energy is part of the solution and there is a growing movement of communities that have come together to make local renewable energy supplies a reality.
Jordan Dam Hydro will be Sheffield's first community owned renewable energy scheme. Through investing in Sheffield Renewables, individuals, organisations and businesses can contribute to the project, and do their bit for a greener, more sustainable city. With an 80kW rating our scheme is expected to be the largest community hydro project yet in England. There will be clear environmental benefits:
Generating renewable energy equivalent to that used by 80 average homes;
Carbon savings of around 170 tons of CO2 per year;
Profits will fund other local environmental initiatives, including providing seed funding for future renewable energy schemes
Investors will become members of Sheffield Renewables, a community and social enterprise dedicated to developing renewable energy schemes in a way that benefits the environment, the city and its people. So this share offer is about more than investing in a renewable energy scheme, it's also about building a community. We already have more than 70 members. Imagine what we could achieve with a community of hundreds of people who want to see more, clean, local energy?
Our shares are offered as a social investment for public spirited and environmentally aware individuals and organisations. The aim is to provide an attractive ethical investment opportunity. Assuming the project performs as planned, we'll be able to pay investors a modest return, complemented by wider social and environmental benefits. We're setting out to raise £250,000 towards building Jordan Dam Hydro through Community Shares. We've already raised nearly £50,000 towards this total from an earlier share offer and this offer is the final push to reach the target.  So please join this exciting project, and help build a legacy of sustainable, local energy supplies."
If you have any questions about this offer please don't hesitate to get in touch
Email: info@sheffieldrenewables.org.uk
Tel: 0114 250 8367