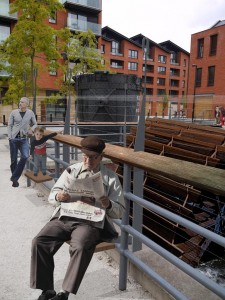 Sheffield's Kelham Island Hydro project was granted planning permission yesterday. The scheme has been developed by Sheffield Renewables [1] with support from Regeneration Officers at Sheffield City Council and Kelham Island Museum, part of Sheffield Industrial Museums Trust. Gaining planning permission is the first milestone towards installing a new water wheel near Kelham Island Museum.
Rob Pilling, Managing Director at Sheffield Renewables said "The Kelham Island Hydro scheme will bring an iconic renewable energy scheme to this popular site in the heart of the city. The project is driven by local volunteers, inspiring members of the community to contribute their time and work together. Gaining planning permission is a huge boost to our efforts and we are hopeful that we could see a water wheel return to Kelham Island by 2014".
The Kelham Island Hydro scheme comprises a 'modern' water wheel to be located in an existing wheel pit and channel system that was used for water power as far back as the Middle Ages. The replacement wheel will be designed for a flow of 2 tonnes of water per second, generating around 75,000kWh of electricity per year. This is the amount of electricity consumed by about 20 typical family homes [2], providing a saving of around 40 tonnes of carbon dioxide per year [3]. Alongside generating clean energy, it will be an inspiring attraction, reviving part of Sheffield's industrial heritage to stimulate interest in renewable energy.
Initially there were some concerns about the plans, expressed by people living nearby, including the design of the protective structure surrounding the wheel. As a community and volunteer led social enterprise, Sheffield Renewables relies upon and values the support of local Sheffield people. They responded to comments by re-designing the protective structure to reduce its height, ensure that its appearance is in keeping with the local area and encourage people to view the wheel as an attractive feature. Gaining planning permission shows that Sheffield City Council and the Environment Agency are happy this and other issues have been satisfactorily addressed.
Sheffield Renewables can now continue to obtain the other permissions and licenses needed to develop Kelham Island Hydro. They gained planning permission for the Jordan Dam Hydro scheme [4], a second water power project near Meadowhall, in March 2011. Jordan Dam Hydro is more advanced, with a Community Share Offer [5] expected later this year. The Community Share Offer will give people and organisations the opportunity to contribute to the half a million pound building costs. Together the two projects highlight the potential for community led renewable energy generation in Sheffield.
Ends
Media Contact Details
info@sheffieldrenewables.org.uk
0114 250 8367
Editors Notes
[1] Sheffield Renewables is a community and a social enterprise that develops, funds, builds, owns and operates renewable energy schemes. This means that we are run by and for local people and also that we are not-for-proffit. Any surplus money generated is re-invested to support local sustainability. Much of our work is carried out by volunteers, which helps to reduce our costs.
Our schemes will contribute to sity wide efforts to meet targets for reducing greenhouse gas emissions and for increasing local renewable energy provision. We reinforce these direct carbon savings through local outreach, communications and education. Our work also helps to strengthen social cohesion and community resilience by encouraging people to work together and to share a common purpose,as well asby developing community owned assets. In pursuing our aims we work across the city for the benefit of everyone, while giving an additional focus to those areas close to our project sites.
[2] This is based on an average UK household electricity consumption of 3,935kWh per household per year. Provided by the Energy Saving Trust (see their website).
[3] Based on a carbon dioxide emission rate of 0.537kg CO2/kWh of grid generated electricity from The Carbon Trust (see their website).
[4] Jordan Dam Hydro Scheme: Sheffield Renewables' initial assessment suggests that the scheme might cost around £450,000 to build and could generate around 380MWh/year. Sourcing this much electricity from hydroelectic generation rather than the national grid would save about 200 tonnes of carbon dioxide per year. Further information about our ongoing development work at Jordan Dam can be found in the Jordan Dam Hydro project section of our website.
[5] Sheffield Renewables is offering 'Community Shares' as a social investment for public spirited and environmentally aware individuals and organisations. The aim is to provide an attractive ethical investment opportunity: investors receive a modest return, complimented by wider social and environmental benefits. The 'Community Shares' concept has been developed through a joint initiative of the Development Trusts Association (now Locality) and Co-operatives UK (see their website).