Two Sheffield groups are desperate for people to help them win British Gas cash to bring renewable energy to South Yorkshire and are calling for everyone to go online and make it a reality.



Public voting for Millhouses Mill Buildings [1] and Sheffield Renewables [2] to win over £125,000 towards two local community renewable energy projects ends at 5pm this Saturday.
So far over 17,000 people have taken part in EnergyShare [3], a national X-Factor style vote, made possible by British Gas and River Cottage. Surprisingly two Sheffield projects made it into this final stage of the funding competition, in different voting categories. The competition divides community renewable energy projects into three categories large, medium and small depending on the amount of cash they need. Sheffield Renewables is in the large category and Millhouses Mill Buildings is in the small. Yorkshire pride and wider national support have ensured that both Sheffield Renewables and Millhouses Mill Buildings only need to beat one other scheme to win their categories. Local MPs have also added their support.
Both schemes have made impressive progress with Sheffield Renewables in second and Millhouses third in their respective categories. With less than one week to go they are calling for one last push to take them to the top of the leaderboard.
"It has been a great start for both groups with lots of votes being registered for us but we need to get the message as far and wide as possible. We have had support from loads of people, including our local MPs Meg Munn, Nick Clegg and Paul Blomfield providing quotes of support [4], but this last week is vitally important to win the grant. The money could ensure the success of the projects. We have provided links through from our website to make voting as easy as possible and volunteers have made a video and an animation on YouTube to show how the project will work. It is also a great opportunity for two Sheffield projects to co-operate to win cash for South Yorkshire" said Cariad, Project Officer for Sheffield Renewables.
River Cottage's Hugh Fernley Whittingstall says "We have already seen at energyshare.com communities who through either saving money on their energy bills or creating income through energy generation have reinvigorated community facilities. The funding available is not simply about turbines or solar PV, it's about enabling people to make their communities more sustainable – both environmentally and economically"
Quick Steps to Vote:
1. Click on this link.
2. Left click on the word 'Vote' that is next to 'Millhouses Park' or 'Sheffield Renewables'
3. Follow the instructions that appear.
If you have any problems, further details on the voting process are illustrated here (http://tiny.cc/kntxd), in our photo album hosted on Facebook. You can view this even if you don't have a Facebook account.
4. If you have not previous registered, check your email and follow the link sent to you by EnergyShare to confirm your vote.
5. Repeat steps 1 to 3 for the scheme you didn't vote for first time round. This is a lot quicker than the first time if you registered as part of your first vote.
Voting closes 5pm Saturday 3rd December
Voting Incentives
Everyday there is a free prize draw where some people that voted that day win a River Cottage cook book or British Gas home energy efficiency pack which could save upto £125 off your fuel bills each year.
If you use this form to invite three people you know to vote, and they vote, you will be entered into a free prize draw to win an exclusive dinning experience for four at the River Cottage canteen.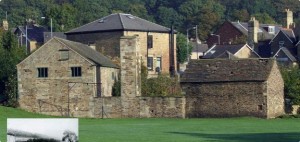 Millhouses mill buildings is a project run jointly by Friends of Millhouses Park
(http://friendsofmillhousespark.org) and Sheffield City Council. The mill buildings site gave Millhouses its name, and there's been a corn mill on this part of the River Sheaf since the 13th century. Awarded £50,000 Heritage Lottery Funding in April 2011, the group are urgently seeking match funding for their renewable installations as part of the refurbishment work for the small mill building; a 3.78kWp solar PV array (to be installed by local firm Positive Footprint) and ~9kW ground source heat pump would save over .5 tonnes of CO2 per year [5].
If enough people sign up and vote for Sheffield Renewables they will win £100,000 towards Jordan Dam Hydro [6], taking Sheffield a step closer to its first community owned water power scheme. Once up and running Jordan Dam Hydro is expected to generate as much electricity as used by 80 typical family homes [7], saving 170 tonnes of carbon dioxide each year [8]. Any profits generated by selling electricity produced by Jordan Dam Hydro will be used to develop further Sheffield energy projects.
To promote the vote, Sheffield Renewables volunteers have released an online animation, poster, draft email text and tracked the competition's progress [9]. You can follow both projects on Facebook with Sheffield Renewables also using Twitter. If you get the 'energyshare bug' you can track the progress of your favourite schemes on the energyshare website at www.energyshare.com/groups/followers/#listing.
Sheffield Renewables has already raised over £65,000 towards developing Jordan Dam Hydro through an exclusive Community Share offer [10]. The £100,000 from energyshare will give them the grant funding they need for the scheme to go ahead. A public share offer will take place next year, giving everyone a chance to invest and become a member. Loans will be used to cover any shortfall.
ENDS
Media Contact Details
Cariad Thomas-Cooke
cariad@SheffieldRenewables.org.uk
07951 741 382
Editors Notes
[1] Friends of Millhouses Park is a registered charity and works in partnership with Sheffield City Council and South West Community Assembly to provide a Better Park for Everyone. Several new projects have been completed in the park in recent years with funding from (amongst others) Sheffield Town Trust, James Neill Trust Fund, Viridor Landfill Tax Credits, Yorkshire Water and Big Lottery.
[2] Sheffield Renewables is a community and a social enterprise that develops, funds, builds, owns and operates renewable energy schemes. This means that we are run by and for local people and also that we are not-for-profit. Surplus money we earn is re-invested to support local sustainability. Much of our work is carried out by volunteers, which helps to reduce our costs.
Our schemes will contribute to city wide efforts to meet targets for reducing greenhouse gas emissions and for increasing local renewable energy provision. We reinforce these direct carbon savings through local outreach, communications and education. Our work also helps to strengthen social cohesion and community resilience by encouraging people to work together and share a common purpose, as well as by
developing community owned assets. In pursuing our aims we work across the city for the benefit of everyone, while giving an additional focus to those areas close to our project sites.
[3] Energyshare is an initiative by the organisers of River Cottage, Hugh's Fish Fight, Chicken Out and Landshare. It acknowledges the impact that energy has on everyone's lives and changing UK attitudes towards energy. They hope to help something really big happen by bringing together people, communities, organisations and the media. This is done through an online community, funding competition made
possible by British Gas and electricity tariff from British Gas (see their website)
[4] Meg Munn, MP for Sheffield Heeley where a Sheffield Renewables office is based said "This project is a great example of how local organisations can work with local people to make a real difference to our environment. I've already voted for it and want to give the Sheffield Renewables team my full support for this project."
Nick Clegg, MP for Sheffield Hallam said "I have been impressed by the work undertaken by Sheffield Renewables to develop a Community Hydro Electric Plant on the River Don in Sheffield. This initiative – if successful – will benefit the local community by providing it with naturally renewable energy and also will contribute to city wide efforts to meet targets for reducing greenhouse gas emissions. I hope its bid to Energyshare will be supported by the people of Sheffield."
Paul Blomfield, MP for Sheffield Central where Sheffield Renewables' other office is based said "It's a fantastic project and I really hope you can do it."
[5] (estimated by our installer, based upon SAP rating); GSHP 9kW installation (estimated by our sustainability consultant Dr Vicki Shaw, using Energy efficiency in buildings, CIBSE Guide, by the Chartered Institution of Building Services Engineers, 2004)
[6] More information on Jordan Dam Hydro is available on this Sheffield Renewables webpage. (www.SheffieldRenewables.org.uk)
[7] This is based on an average UK household electricity consumption of 3,935kWh per household per year. Provided by the Energy Saving Trust (see their website) The scheme is expected to generate 310MWh per year.
[8] Based on a carbon dioxide emission rate of 0.537kg CO2/kWh of grid generated electricity from The Carbon Trust (see their website)
[9] Original Sheffield Renewables press release from start of competition (Tuesday 15th November) is available here:
(http://tiny.cc/6u4cd)
Details of the competition and our supporting materials, including an online animation are available here:
(http://tiny.cc/fxj15)
A new youTube video where Sheffield Renewables volunteers talk about the project is available here:
(http://tiny.cc/cyr2h) credit to this must go to Lindsey Young
A series of daily updates tracking the course of the competition is available here:
(http://tiny.cc/n5iru)
[10] Sheffield Renewables is offering 'Community Shares' as a social investment for public spirited and environmentally aware individuals and organisations. The aim is to provide an attractive ethical investment opportunity: investors receive a modest return, complemented by wider social and environmental benefits. The 'Community Shares' concept has been developed through a joint initiative of the Development Trusts Association (now Locality) and Co-operatives UK (see their website)