The people make Sheffield Renewables what it is. The Sponsors make it possible for those people to do what they do.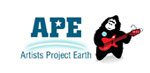 We are supported by Artists Project Earth.

CO2 Sense (formerly Future Energy Yorkshire) helps businesses in the Yorkshire and Humber region to prosper in the low-carbon economy. It is a wholly-owned subsidiary of Yorkshire Forward, the region's development agency.
Community Shares is a Government-funded action learning research project looking at new ways for social enterprises to attract finance. The work is funded by the Office of Civil Society and led by the Department for Communities and Local Government, and delivered by the Development Trusts Association and in partnership with Co-operatives UK. The research is examining the potential of community shares and bonds as a way to attract extra investment. Ten social enterprises have been invited to test the idea, looking at barriers that could restrict their growth and how they can be overcome.

Co-operative Enterprise Hub is a part of the Co-operative Group which offers a package of advice, training and finance to help new and existing co-operatives become more sustainable businesses.
Key Fund Yorkshire provides development finance for social entrepreneurs, voluntary and community organisations and existing social enterprises.
Sheffield First Partnership (SFP)
Details of the contribution made by the Partnership.
South Yorkshire Community Foundation raises and distributes funds to meet the needs of local people facing economic hardship and other barriers to aspiration, thereby improving lives in their communities.
LEAF funding is available to councils, voluntary organisations, development trusts and faith groups.  LEAF is funded by DECC